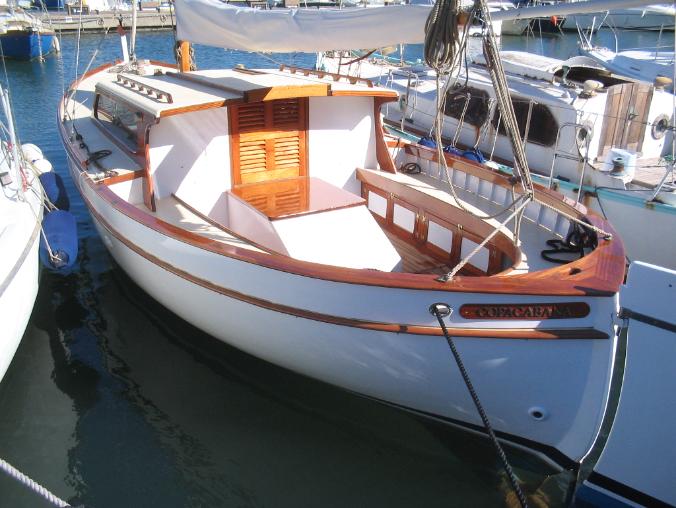 Copacabana

1960 André Mauric Pointu

Copacabana or 'Coco' as she is affectionately known was built in Marseille in 1960 for a Dr Trainier. She
has spent her entire life in the bay of St Tropez in the south of France.

Restored in 2004 she is now in superb condition. She is fitted with a new Yanmar 3YM30 diesel engine
which has now just 50 hours of light use. Also fitted is copious sound proofing and a Halyard Aquadrive,
so it is a very smooth and quiet instalation. She even has a Max prop feathering three blade propellor
fitted so she sails very well even in light airs. At full speed she can do about 8 knots but is happy cruising
at about 6 knots. A new stainless fuel tank has also been fitted.

Her decks were replaced and epoxied, all exterior varnish and the entire cabin was replaced and deeply
varnished. She has been constantly improved over the years and is a favorite at the annual regatta, 'Les
Voiles Latines' in St Tropez.

She was designed by the famous French designer André Mauric who was also responsible for Pen Duick
VI, designed for the late Eric Taberly. Coco was the only Pointu he designed and as such is unique. She
has a lead keel and her original spruce mast so she sails very well for a pointu. She turns heads
everywhere she goes.

Her current owner has spared no expense but has recently bought another boat and he doesn't have the
time for two boats so she is reluctantly for sale.

She has cream coloured sails cut in the old style with small panels. The jib is on a bronze Wykham Martin
furler and she even has a lightweight drifter sail for light airs.

Coco is a simple boat but has a toilet up forward with a privacy curtain, a brass forehatch and dorades
ensure plenty of ventilation. She has two comfy bunks and plenty of storage below and the cockpit has a
full compliment of cushions covered in navy blue toweling material. For instrumentation she has a Tack
Tick wireless speed and depth instrument that can be easily removed. She has two batteries and a fitted
automatic battery charger.

Her large cockpit is stunning with curved varnished mahogany trim and a beautiful engine cover made of
just one piece of wood. A perfect place for lunch afloat. The cockpit floor is all laid teak.

She has the usual assortment of ropes and fenders, varnished boat hook and anchors etc. When not in
use she is fully covered with a cream coloured and vented boat cover which reduces maintenance
considerably. She is currently moored in Marines de Cogolin just 3 miles from St Tropez. This rare
mooring may also be purchased if required.

She is in fabulous condition, well maintained and is available to buy for 60,000€

Please contact Max at mht@watermarkclub.co.uk for more details.

Please click
here
or on this photo to
see more pictures of Copacabana.