Scott built this Stasha and did a lovely job too. I'm very envious of that fabulous workshop!

He says: I think you've designed a great little boat that is fun to build, thanks to the thorough, easy to follow plans.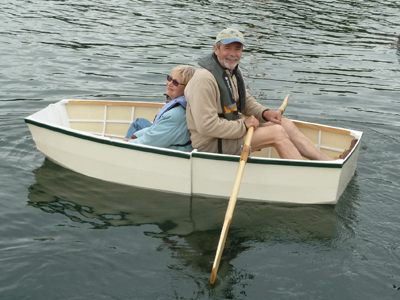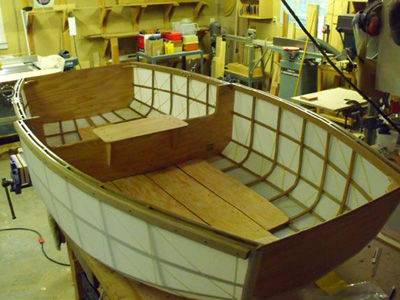 This is the Stasha 'Tweed' special edition. Covered with a natural Flax material and epoxy. It is 50% heavier than a standard Stasha and it takes about three times longer to build. If you would like to build a Stasha 'Tweed' you will need a set of Stasha plans and
this article
which will tell you all you need to know. Please note the Stasha 'Tweed' is harder to build than a standard Stasha and it requires a higher level of skill. The end result is splendid though.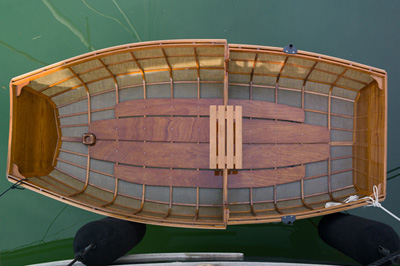 'Thanks for a great boat project!'

Mike
This is 'Starfish' a Stasha made by Nathan who has since made a sailing rig for it
This is the rather striking Stasha
that Ray and Lyle built to go on
the deck of a Canadian Dana 24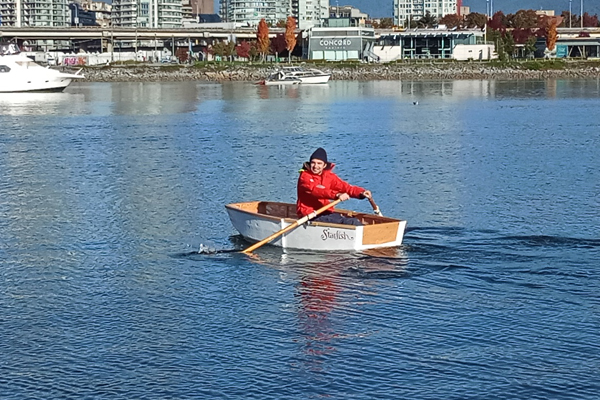 Bergeendje slipping along with her Minn Kota electric engine fitted.
Many thanks to Ronald in Holland who sent me these pics. His Stasha is called Bergeendje and has been tested with sails, oars and electric engine. He says:

Thanks for your very nice design and 'after sale' support. It was such fun to row and sail it in a very light breeze!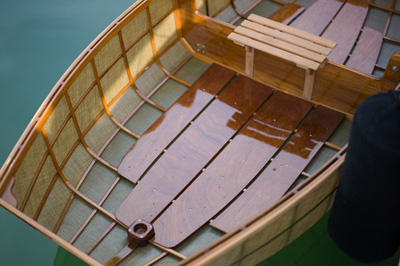 Nick and Linda try out their new Stasha nesting dinghy. Says Nick, 'The pics say it all - with Linda quickly demanding a go in quite a strong breeze. Despite the unsuitable oars - Stasha moves through the water very easily and I can imagine what a sail could do.....Very stable and easy to get in and out of from the water's edge'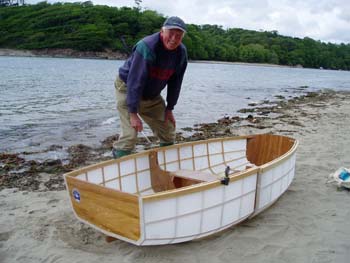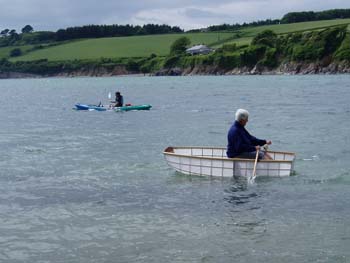 The Maiden voyage of Scott's Stasha. He says:

The oars arrived today so I went to the nearest lake even though it was 36 degrees and a snow/rain mix. She rows like a dream, very stable, and fast. I'm sure she'll make an excellent fly fishing platform come spring. One really nice feature is she fits inside our little 19 foot camper so now we can go enjoy some of Oregons' mountian lakes, when the snow finally melts, with this great little dingy
Howard built this very tidy Stasha. He wanted more strength so he covered the Dacron cloth in a layer of epoxy soaked xylene. It weighs twice as much but must be almost indestructible!
An experiment in transparency. It could never be made completely watertight. The window material is heavy but not very strong or resistant. Not really recommended.
Two up in a Stasha.